In 2006, ACW established the Adirondack Literary Awards as a way to honor the writers and publishers who live and work (even part time) in the North Country. Every year we select winners from fiction, non-fiction, children's literature, memoir, edited collections, feature articles and poetry. Join us on June 1 at the beautiful Blue Mountain Center, which donates space and resources for this festive event.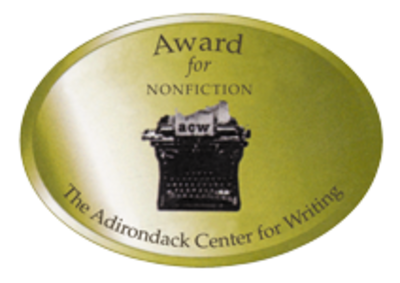 And this year's winners are....
for Best Children's Book: Lost by LeeAnne Baker.
This year there were two fiction prizes, one for best for short story collections and one for best novel. The award for Best Short Story Collection went to The Hypothetical Girl by Elizabeth Cohen, and the prize for Best Novel went to Jamie Sheffield for Here Be Monsters.
Best Memoir went to Wet Socks by Carol Gregson.
The Best Book of Edited Collections in Nonfiction went to North Country Reflections/Adirondack Reflections edited by Neal Burdick and Maurice Kenny.
The Best Book of General Nonfiction went to Out of the Blue; Blueline Essays 1979-1989 by Alice Wolf Gilborn.
The Best Book of Poetry went to Paul Pines for New Orleans Variations & Paris Ouroboros.
The Best Featured Article went to "A Phone Call and a Thank You Just in Time" by Chris Knight, published by Adirondack Daily Enterprise
For the first time the People's Choice Award was tied, winners were Never a Dull Moment; A Tapestry of Scenes & Stories from an Adirondack Medical Practice by Daniel Way, M.D. and Race to Incarcerate by Sabrina Jones and Marc Mauer.
ACW is very proud of the judges for the Adirondack Literary Award; they are careful and dedicated readers. The judges are:
Fiction: Bibi Wein and Jerry McGovern
Nonfiction and memoir: Ellen Rocco and Joseph Bruchac
Poetry: Roger Mitchell and Stuart Bartow
Children's Literature: Ellen Wilcox and Nancy Beattie
Featured Articles: Rick Brooks (from the Wall St Journal) and Michael Corkery (from the New York Times)
The complete list of this year's submissions:
NON-FICTION
The Resilient Woman by Patricia O'Gorman, PhD published by HCI Books
North Country Reflections/Adirondack Reflections Edited by Neal Burdick and Maurice Kenny published by The History Press
Killing in the Kuyahoora Valley by Lawrence Gooley published by Bloated Toe Publishing
Garden Gourmet by Yvona Fast published by Bloated Toe Publishing
Invoking Animal Magic; A Guide for the Pagan Priestess by Hearth Moon Rising published by Moon Books
The Allure of the Deep Woods; Backbacking the Northville-Placid Trail by Walt McLaughlin published by North Country Books
Out of the Blue; Blueline Essays 1979-1989 by Alice Wolf Gilborn published by Potsdam College Press
SAW Project edited by Nora Nellis, published by East Side Center
The Adirondack Heart by John Radigan
Never a Dull Moment; A Tapestry of Scenes & Stories from an Adirondack Medical Practice by Daniel Way, M.D. published by Indian Lake Press
Race to Incarcerate by Sabrina Jones and Marc Mauer, published by The New Press
When Men and Mountains Meet by Glenn Pearsall published by Pyramid Publishing
MEMOIR
An Unconventional Childhood; Growing up in the Catskills During the 1950s and 1960s by Marilyn Mayes Kaltenborn
Life at 12 College Rd by Eric Mondschein, published by Something Or Other Publishing
Finding My Way to Moose River Farm; Living with Animals in the Adirondacks by Anne Phinney
Wet Socks by Carol Gregson published by Bloated Toe Publishing
The Famous Nada; A Meditation on History and Celebrity by Luis L. Tijerina published by RA Press
A Million Miles from Home by Jeanne Selander Miller, published by Pebble Path Printing
CHILDREN'S LITERATURE
Among Friends; A Quaker Boy at the Battle of Plattsburgh by Stephen Woodruff, published by North Country Books
Adirondack Mouse and the Great Storyteller by Irene Uttendorfsky published by Thornapple Creek Books
Pukeweed Soup by JoAnn Flammer, published by Lone Loon Press
Adirondack Kids #13: The Carousel Case, The Bicycle Race & The Blackfly Guy by Justin and Gary VanRiper, published by Adirondack Kids Press
Gabrielle and the Dream Potato by George Bryjak, published by Myopic Moose Press
The Misty Peaks of Dentarus by Thomas Jones published by Peakaboo Pepper Books
Lost by LeeAnne Baker
The Little Book in the Field by Jim Goff, published by Trafford Publishing
Being A Boy by Jeffrey Kelly, published by Creative Bloc Press
POETRY
The New Kid by Jean Arleen Breed published by Bloated Toe Publishing
69 Seconds: Poetry in Time's Need by Christopher Buerkett, published by Hungry Bear Publishing
Adirondack Paper Girl: An Anthology of Poetry by Jean Arleen Breed, published by Alva Press
Doubly Sweet For the Strange by Sean Tierney, published by RA Press
Your Earth Killing Me by Shane Rooney, published by RA Press
The Creek by Justin Grimbol, published by RA Press
What the Trees Said by Elizabeth Cohen, published by Split Oak Press
Door of Thin Skins by Shira Dentz, published by CavanKerry Press
New Orleans Variations & Paris Ouroboros by Paul Pines, published by Dos Madres
FICTION
The Hypothetical Girl by Elizabeth Cohen, published by Other Press
A Cold and Lonely Place by Sara J. Henry, published by Crown Publishers
The Golden Eagles by Dave Donohue, published by RA Press
Conquering the Wild by Gail Huntley, published by Bookstand Publishing
In All The Wrong Places by Patrick Egan
The Adirondack Cannon Mystery by Kathleen Curry
Here Be Monsters by Jamie Sheffield, published by Smart Pig
Forever Wild by Tony Holtzman , published by Cloud Splitter Press
The Second Intelligent Species by Dale Langlois
Fenced with Iron by Sean Tierney, published by RA Press
The Ruby Seat by Joe Rector, published by Koehler Books
Temple of the Sphinx by Dave Donohue, published by RA Press
Adirondack August by Kay Benedict Sgarlata
Lady of Yaddo: The Gilded Age Memoir of Katrina Trask by Lynn Esmay, published by French Mountain Press
The River's Tale by Michael Virtanen, published by Lost Pond Press
FEATURE ARTICLE
"A Phone Call and a Thank You Just in Time" by Chris Knight, published by Adirondack Daily Enterprise
"Death on the River" by Joseph Connelly, published by Adirondack Life Magazine
"Twelve Years A Slave: North Country Native Solomon Northup" by David Fiske, published by The New York History Blog
"Adirondack Art: OK Slip Falls Inspiration" by Sandra Hildreth, published by Adirondack Almanack
"First They Came for the Frogs..." an interview with Elizabeth Kolbert on her book, The Sixth Extinction by Fred Balzac published by the Lake Champlain Weekly
"The Long Goodbye" by Meg Hagerty published The Post Star